The GranDaddy of all bike trails in the area, the San Gabriel River Trail is a paved bike route that parallels the 605 freeway.  The trail runs from Seal Beach to the ranger station on HWY 39 above Azuza.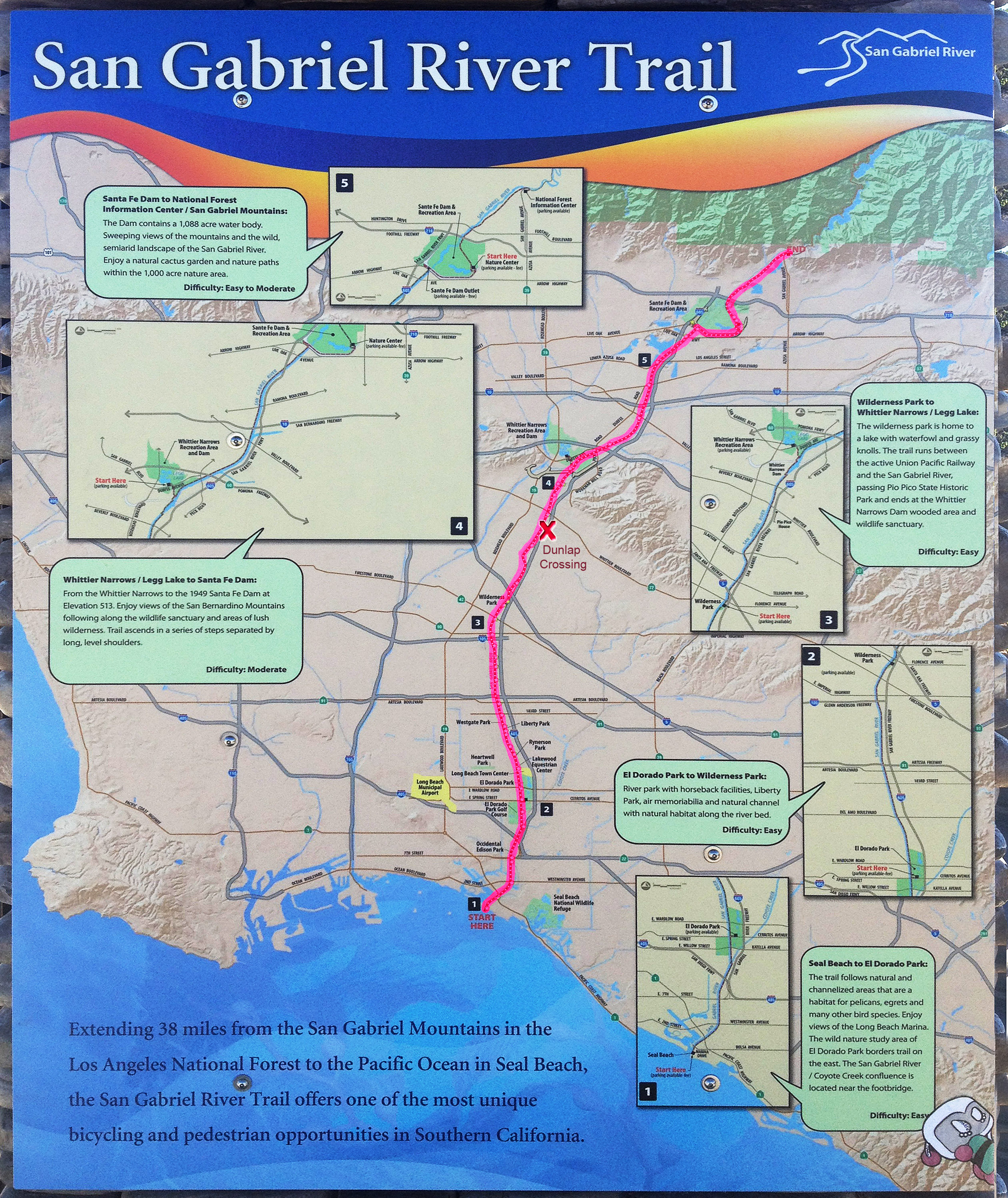 The Best feature of this trail, NO MOTORIZED VEHICLES ALLOWED! 
It's a paved trail for biking and hiking.  Total length 38 Miles.  Access to the trail can be gained on most major East / West roads and many parks located along the 605 freeway.  The center of the trail is located at Dunlap Crossing,  between Washington and Whittier Blvd in Whittier.  This is a favorite entry point because it splits the trail in half.  19 miles south to the beach, or 19 miles north to the mountains.
Click on the image below to Take a Virtual Tour of the San Gabriel Bike Trail.  Explore the trail and find your favorite entry and exit points.

Parks are also a great entry point for the San Gabriel River Trail.  They also afford great parking,  water, and a central meeting place for group rides
Wilderness Park in Downey
Foster Park and Greenway in Norwalk
Liberty Park in Cerritos
El Dorado Park in Long Beach
Pico Rivera Golf course
El Encanto Park in Duarte
Santa Fe Dam Recreation area in Irwindale
Disclaimer – Ride at Your Own Risk
This website provides information for the public on bicycling opportunities in the Southern California region. The user of this information assumes all risk for any injuries or difficulties that may result. Bicycling can be a dangerous activity and regardless of what is presented on this website, users always engage in recreational activities at their own risk.  Bicyclists using this website and related links and materials assume the responsibilities and risks for their own safety when bicycling on the suggested roads, routes, loops and trails.